Closing on your New Home
The "Closing" is the meeting where you will sign the real estate and mortgage documents to purchase your new home, hand over your check, and receive your keys. Unlike some states, in Colorado we generally do not close "in escrow," so that when you sign the documents you own the house and are free to move in. What should you expect?
Preparing for closing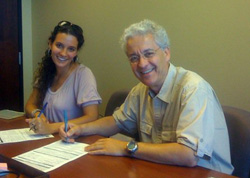 Prior to the closing you will work with a lot of people to make sure that everything is taken care of, and we will be there with you to make sure you understand the process and your legal rights. You will be working with your insurance agent, your lender, and the title company to provide information for the closing documents. You will need a cashier's check for the portion of your purchase price (plus closing costs) not covered by your mortgage. You will need to bring ID with you. If one or more parties to the contract can't be physically present for the closing, we will help you get a Power of Attorney or arrange to have documents signed in advance (or mailed to you). Don't worry, we will be there to help you get everything ready.
Don't forget to contact the gas and electric company to put service in your name, arrange for phone and tv service, and submit change of address forms to the post office.
On the day of the closing
This is one of the most exciting days in the whole home-buying process, and we will be there with you! At the closing you will sign a lot of documents and we will help you understand everything. We will answer your questions and ensure everything goes as smoothly as possible. At the end of the closing (unless the contract states otherwise), you will receive the keys to your new home!