Welcome to the HGTV Green Home 2011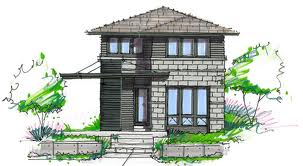 In August 2010, HGTV announced that they would build the fourth HGTV Green Home in Stapleton! To many of this it seemed like a logical choice, since nothing could be more green than recycling an entire neighborhood!
"The HGTV Green Home gives us an opportunity to display the latest products and highlight the newest practices for the ever-evolving standards of sustainable living," said Jack Thomasson, HGTV House Planner. "The combination of a spectacular eco-healthy home design, built in a vibrant community, will undoubtedly make this our most dynamic HGTV Green Home ever."
Construction
As construction progressed on the HGTV Green Home, we continued to take photos and post them to the Kearns Team Facebook page to update visitors who couldn't view the home in person. Take a look at our photo albums of the 2011 HGTV Green Home.
The Builder: Infinity Home Collection
The Infinity Home Collection was selected by HGTV to build the 2011 Green Home, based on their popular Balboa series of homes. "We're honored that HGTV has selected the Infinity for the construction of its 2011 HGTV Green Home," said David Steinke, general manager, Infinity Home Collection. "We love building smart homes for smart people and to us, building green is practically second nature. It gives us great pleasure to have our work featured as part of this year's HGTV Green Home Giveaway."
Build your Own Green Home in Stapleton
In Stapleton, every home is Green, some are just a bit more Green than others! Since the construction began in Stapleton in 2002, every home has had to meet strict green building standards, and since 2006 every home has had to meet Energy Star standards. If you are interested in building a Green home in Stapleton, contact us. We can even help you build a home like the HGTV 2011 Gren Home - in case you don't win the sweepstakes!