Stapleton Community Garage Sale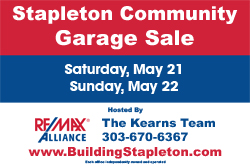 In 2006 we started the Stapleton Community Garage Sale with about 75 homes participating. By 2010 we had over 300 homes and the annual sale has become well known throughout Denver! In 2015 we had over 400 neighbors joining in the fun!
2016 Sale Dates
The 11th Annual Stapleton Community Garage Sale will be held on Saturday, May 21 and Sunday, May 22, 2016 from 8:00am to noon.
The sale will be held over both Saturday and Sunday - participants can choose whether they plan on having their sale on Saturday, Sunday, or both days.
Location
Individual sales at homes throughout the Stapleton neighborhood.
Click
HERE
for the FINAL list of homes participating.
Click
HERE
for a Google map of the homes participating in the Sale.
Cost
None! All costs of organizing and advertising the sale are paid by Diana and Michael Kearns, The Kearns Team, RE/MAX Alliance.
How to Register
Registration for the 2016 Stapleton Community Garage Sale is now closed.
Garage Sale Signs
Based on feedback from the neighborhood, we are no longer ordering individual signs -- we normally spend about $2000 on signs, and most of them wind up in people's trash. This year we bought a bunch of large banners that are up around the neighborhood and hopefully will also draw traffic in for the sale.
Having said that, we do have some signs available from last year (no date). They are available at the Stapleton Tap House in Northfield - address and hours are availble here.
Post Sale Cleanup
Please make sure to clean up after your sale. Remove any signs you put up (on your property or selsewhere). Please DO NOT leave items at the curb with "Free" signs - if you want to donate items, please read on...
Post Sale Donations
Two options:
take donations to the Goodwill Store in Quebec Square; or
the Denver School of the Arts Theatre Class will make collections to beneft ARC, and will benefit the class. For more info, please view their flyer HERE.
If you have additional questions, please check out our Stapleton Garage Sale FAQ page and our Garage Sale Tips page... and if you need more information, you can email us at GarageSale@KearnsTeam.com.
2017 Sale Dates
The 12th Annual Stapleton Community Garage Sale is scheduled to be held on
Saturday, May 20 and Sunday, May 21, 2017 from 8:00am to noon.