Stapleton Community Garage Sale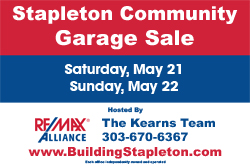 In 2006 we started the Stapleton Community Garage Sale with about 75 homes participating. By 2010 we had over 300 homes and the annual sale has become well known throughout Denver! In 2015 we had over 400 neighobors joining in the fun!
2016 Sale Dates
the 10th Annual Stapleton Community Garage Sale will be held on Saturday, May 21 and Sunday, May 22, 2016 from 8:00am to noon.
The sale will be held over both Saturday and Sunday - participants can choose whether they plan on having their sale on Saturday, Sunday, or both days.
Location
Individual sales at homes throughout the Stapleton neighborhood.
A list of homes participating and a map will be posted here a few days prior to the sale.
Cost
None! All costs of organizing and advertising the sale are paid by Diana and Michael Kearns, The Kearns Team, RE/MAX Alliance.
How to Register
Register for the 2016 Stapleton Community Garage Sale via the form at the bottom of this page.
Post Sale Cleanup
Please make sure to clean up after your sale. Remove any signs you put up (on your property or selsewhere). Please DO NOT leave items at the curb with "Free" signs - if you want to donate items, please contact a charitable organization.
If you have additional questions, please check out our Stapleton Garage Sale FAQ page and our Garage Sale Tips page... and if you need more information, you can email us at GarageSale@KearnsTeam.com.